Lafarge Egypt's talented workforce provides world-class & sustainable construction solutions while contributing to the development of Egypt's communities.
Values  
INTEGRITY
DISCIPLINE
OWNERSHIP
OPENNESS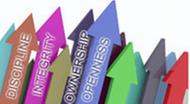 DETERMINATION

Success demands determination and Lafarge's focus on internal training and advancement creates an environment where all of its employees feel their personal importance contributes to the success of the company.
In Lafarge Egypt we believe that our most valuable assets, and the most essential element of success in our industry, is our pool of talented people. Managing talents is a priority at Lafarge, and the management team takes the development of talents of Lafarge employees very seriously. Because our employees are our investment we ensure that we give a lot of attention to retaining and developing employees skills.
CALIBRE

Lafarge uses its high calibre human equity and global experience and track record to set the bar when it comes to standards in Egypt.
Lafarge is a leading group and competitive force in the heavy building field. Our group is a recognized pioneer in its sector. We believe that is our dedication and high standards as well as the commitment of our employees that have ensured we remain at the top of our field. At Lafarge there are more than 76,000 employees who demonstrate outstanding skill, dedication and commitment.
TRANSPARENCY

Lafarge is the first in its sector and one of the first industrials to take on firm CO2 reduction commitments 
As the world leader in our sector, we can contribute to improving the quality of life of an always-expanding urban population through homes, housing systems and infrastructure.
This is why Lafarge Sustainability Ambitions 2020 are the first steps towards a vision of the future where we strive to protect the environment and, more importantly, to make a net positive contribution to society as a whole.