Helping Communities During Covid 19
At Holcim, Health and Safety is a core value. We act responsibly and with solidarity across the globe to protect our employees, our business and our communities. We currently enforce a range of global and local measures to protect our teams and contain the spread of the coronavirus. To mitigate the impact of our business, we have launched the action plan "HEALTH, COST & CASH" for immediate execution in all countries.
How We Protect our Staff and Partners
At Lafarge Egypt, Health and Safety is a core value. In the face of the coronavirus pandemic, we have continued to live up to this core value, acting quickly and with great solidarity to protect employees, contractors and all our stakeholders in the time of Coronavirus (Covid-19).
In this unsettling time, our first and foremost priority remains the health and safety of our employees, customers, service partners and the communities we form a part of. 
We want to ensure that we are complying with all government directives to help stop the spread of the virus, ease the suffering and bring about an end to it as quickly as possible. Our responsibility and sustainability approach uses our presence and resources in Egypt to provide solutions toward addressing social, environmental and stakeholder challenges, with one clear goal: to create shared value with society.
We Walk Our Talk: Our Actions in Lafarge Egypt to Support our Communities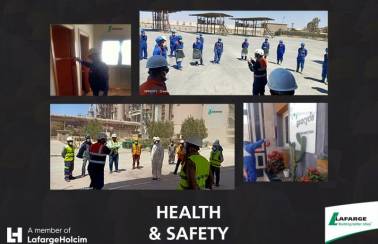 Our Measures
We have put in place a range of local measures to protect our teams and contribute to the containment of the disease. These measures are: strict adherence to social distancing in operations and our offices, adaption of our Health and Safety guidance for all our operations in relation to COVID-19, creation of company-wide COVID-19 online resource center available to all our employees, travel restrictions and work-from-home arrangements wherever possible, strong promotion of digital (i.e. 'contactless') initiatives in our markets.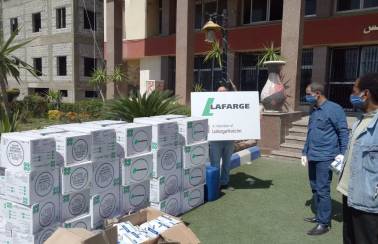 March 2020 - In line with the measures and efforts taken by the state and its institutions to combat the spread of the emerging Covid-19, Lafarge Egypt, a subsidiary of Lafarge Holcim Group, announced the launch of its initiative in the Suez Governorate in cooperation with Gen. Abdel Meguid Saqr, Governor of Suez. The Initiative provides protective masks, sanitizers and gloves to support the needs of the governorate.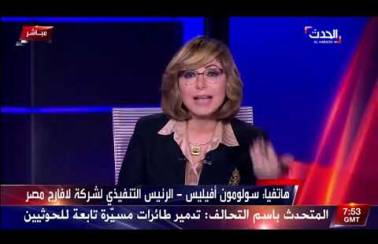 March 2020 - Mr Solomon Baumgartner Aviles, Chief Executive Officer, Lafarge Egypt's interview with Al-Arabiya Al-Hadath Channel on Cairo Now Program, discussing Lafarge Egypt's efforts to support the Community.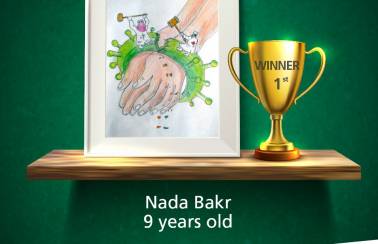 April 2020 - Lafarge Egypt organized a drawing competition for its employees' children to showcase their creativity and talent in fighting Corona with art! Many wonderful drawings were delivered. The 1st place winner is Nada Bakr and the 2nd place winners are: Asser Ahmed, Aya Ashraf, Hams Dewidar and Youanna Nader. Check out their creativity!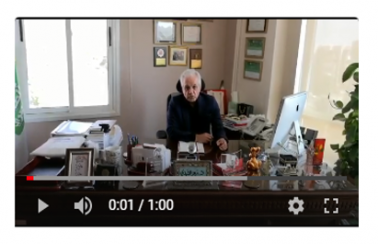 April 2020 - Egyptian Food Bank and Regional Food Banking Network CEO, Dr. Moez El Shohdi, declared: "Throughout the past decade, the Egyptian Food Bank, has been accustomed to Lafarge Egypt's unceasing humanitarian contribution. It all started in 2010, when a strategic partnership strongly bonded both entities & pushed them to collaborate in extending a helping hand to the underprivileged students with proper nutritional diets, where Lafarge Egypt has generously contributed in supporting a school feeding program launched back then. Today, we are leveraging on what we have started long ago by supporting irregular daily workers through the Egyptian Food Bank. We also support in repairing medical ventilators in the State's hospitals through the Egyptian Cure Bank. Looking forward to the future, we pledge further collaboration to subsidize those who are  suffering financially in Egypt, while diligently investing in their well-being and welfare."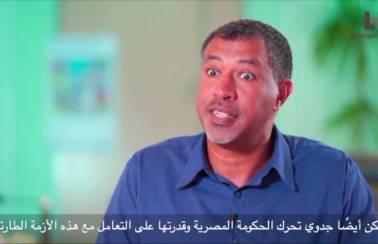 April 2020 - Lafarge Egypt CEO, Mr. Solomon Baumgartner Aviles praising GOE measures to contain the COVID-19 crisis and expressing his admiration for the Egyptian people's resilience & Lafarge Egypt's determination to come out of this crisis stronger.