Lafarge Contributes in Cairo Metro With Over 900,000 M³ of Concrete: Lafarge Egypt CEO
In an interview with Invest-Gate, CEO of Lafarge Egypt Solomon Baumgartner Aviles underlined the latest projects in which his company's cement has prevailed.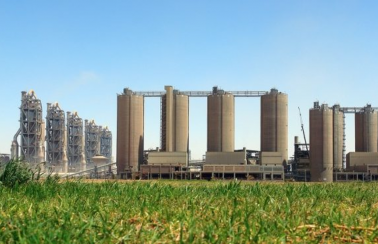 He discussed the potentials in Egypt and shared the hardships the industry is going through, while also disclosing the company's initiatives to reinforce community protection post coronavirus outbreak, along with the precautionary measures adopted by Lafarge Egypt to maintain the safety and wellbeing of its employees.
Can you elaborate on Lafarge Egypt's contribution to national infrastructure development projects?
Being a key player in the construction materials industry, LafargeHolcim's historic relationship with the Egyptian national infrastructure development projects goes back to the 18th Century, specifically in 1864, when Lafarge contributed to the construction of the Suez Canal delivering Hydraulic limestone. Here we are, after one hundred and sixty-four years, I am glad to share with you our historic experience in Egypt.
In fact, with Lafarge Egypt's extensive road expertise and integrated solutions, the company has proudly completed the 170-kilometer-long Cairo-Alexandria Desert Road in 2012, optimizing construction costs, while augmenting road service life. And in 2017, we supplied for the 45-kilometer-long Shubra-Benha Highway. Today, Lafarge Egypt is contributing to one of the most technically challenging projects in Africa; which is the Cairo Metro project, supplying over 900,000 cubic meters of various concrete types while delivering the optimum solutions that best suit this mega project's construction needs, and our story in Egypt continues.
What criteria does Lafarge Egypt follow when choosing a country to inaugurate a factory or when specifying a regional manufacturing hub? Is Lafarge Egypt considered a hub?
When it comes to business in the MENA Region, Egypt is a key country for LafargeHolcim Group. The country is blessed with a privileged geographical export location; a competitive feature for Lafarge Egypt's business to thrive. We take pride in our presence in this strategic market of 100 mn people. This doesn't mean the picture is rosy, the industry as a whole is terribly suffering, we in Lafarge Egypt like others survive in a market tremendously oversupplied, cost of components of production has hiked, but we have full confidence in the state's ability to weather the current hardships and support the Egyptian cement industry in becoming a regional hub for Africa, along with its neighboring countries.
How many factories does Lafarge have in Egypt, and what are the production capacity and workforce?
We have one plant in Ain Sokhna, which is considered one of the largest cement plants in the MENA region. It was established in 1997, way before Lafarge's acquisition of the Egyptian Cement Company. Operating by 1,534 dedicated employees, our plant has five production lines with an overall capacity of 10.2 metrics tons. We also have Geocycle Egypt, a member of LafargeHolcim Group. Inaugurated in 2011, Geocycle Egypt feeds the Lafarge cement plant with Refusederived Fuel (RDF) as an alternative to fossil fuel. Strictly complying with the ecological standards in Egypt, Geocycle has meticulously chosen RDF waste management solutions for their economical and environmental-friendly nature. We own as well a Bags plant in the 6th of October City, which is competently serving the entire cement industry along with other sectors in Egypt.
What were the implications of COVID-19 on Egypt's cement industry?
In fact, COVID-19 has severely impacted the building materials sector at large and the cement industry in specific. Individual construction, which is the largest consumer of cement, has been harshly affected as a result of the pandemic due to low demand, as individuals do not tend to invest in construction in times of crisis. Additionally, the former ministerial decision to halt licenses for building, expanding, upgrading, amending, or supporting construction work for private housing in Egypt's major cities has increased pressure on the cement sector. With the hit of COVID-19 leading to trembling market conditions and competitive environment for Egypt's cement sector, producers who were previously operating under normal business conditions, are now suffering financial loss and we wonder how the industry will be able to sustain its operations. If nothing happens, this will inevitably result in the collapse of a number of players, including the exit of certain foreign players from Egypt. Thanks to the sound guidance of the Egyptian government, infrastructure projects the industry is now still operating pledging a promising prospect for the construction industry to steadily heal and recover.
What is Lafarge Egypt's strategy to face the current crisis and declining demand in the market?
We have developed an integrated plan to reduce costs and create export opportunities, despite scarcity. We also call for the support of the Egyptian government to intervene to save the industry regarding overcapacity hardships. Further, we hope the government will set incentives for plants to use alternative fuels. This will foster waste recycling at sites and the creation of environmental-friendly factories in the long-term. Finally, we are a strong believer in performance-based product portfolios. In such we have a great opportunity here in Egypt to introduce a larger variety of blended cement. Besides their ecological advantages, blended cement provides better performance during usage, and even after it is used. This, together with facilitating exports, will increase our industry's competitiveness; regionally and internationally. Hence, compensating for decreased demand on a local market while preserving the foreign currency that is vastly used to import coal.
Please elaborate on Lafarge Egypt's H1 2020 results. What is your estimated target for the second half of 2020?
During the first half of the year, the national demand for cement decreased, and of course, this is never satisfying for any producer or investor, concerning expectations of our sales for the end of the year. The answer to this question will ultimately depend on the development of this fierce and mysterious virus and on how long it takes to develop a vaccine to eradicate it. However, we at Lafarge Egypt look beyond the pandemic and push our sustainable development agenda further, complying with the Egyptian Ministry of Trade and Industry's joint committee and European Bank for Reconstruction and Development (EBRD) efforts.
With countries easing lockdowns, how does Lafarge Egypt adapt to the new normal?
At LafargeHolcim, the health and safety of our employees, contractors, customers, and surrounding communities are on top of our priorities. In a nutshell, it is our DNA. We have and will continue to take all precautionary measures to work with and abide by all the instructions and directives issued by the Ministry of Health together with the World Health Organization (WHO). They say that in every crisis there is an opportunity. In light of the challenges produced by the pandemic, I am especially proud to spotlight the work that our industrial colleagues in our company have done to produce safe sterilization booths at our sites. This employee-driven initiative demonstrated innovation and a strong sense of awareness; it is an excellent example of teamwork and solidarity.
What about Lafarge Egypt's CSR projects, in terms of funds, goals, and plans?
With regard to the health aspect, Lafarge Egypt has positively impacted over 100,000 lives by supporting local communities to curb the spread of COVID-19. We have served over 2,000 food boxes for temporary workers along with their families in Qalyubia Governorate, donated over 80,000 masks and gloves, provided 200 liters of antibacterial gel, and supported public hospitals by refurbishing 460 ventilators. This month, we will be contributing another 56,000 masks to the Delta public hospitals. On a separate note, I would like to praise the Egyptian government's response and policies to COVID-19. Their swift, professional and transparent actions along with their allocation of EGP 100 bn to mitigate the repercussions of the pandemic have been gratefully received by both companies and individuals alike.