Lafarge Egypt provides free medical services for street children
Lafarge Egypt provides free medical services for street children
177 thousand beneficiaries from its medical campaigns from 2011 to date
Cairo, May 2019: Lafarge Egypt, a member of LafargeHolcim Group, organized a medical campaign with free medical care service targeting street children this Ramadan. In collaboration with Samusocial International Egypt and through the Egyptian Council for Pro-Peace Physicians ( ECOPP), the campaign took place on May, 25 in Al-Sayeda Nafeesah hospital at Old Cairo.
The activity comes as part of the company's corporate social responsibility efforts  as Lafarge Egypt has been running its medical convoys since 2011 till date, reaching 177,000 beneficiaries in need across different regions in Egypt.
In this context ,Mr. Hussein Mansi, Lafarge Egypt CEO revealed, "Through our presence, we seek to add value to the communities we operate in and most of our efforts are focus on helping people in need especially in the health sector  where this comes among our top priorities." "Sustainability is one of the main principles that we are keen to implement in all our activities, thus we are working on making these campaigns sustainable whether through their continuity or through their impact, as ECOPP offers professional training for young doctors in remote areas, in addition to General health awareness sessions in Giza, Suez, Delta, and South Sinai," Mansi adds.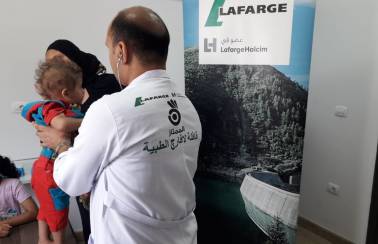 Lafarge medical campaigns are being executed in cooperation with ECOPP, a non-governmental organization that works on activating the humanitarian role in the medical field through community service. The campaigns include diverse specializations including, but not limited to, pediatrics, ophthalmology, heart, and chest surgery and gastroenterology. Additionally, they offer general check-ups and free medicine beside the transfer of critical cases, that need medical intervention, to the nearest public hospital with a referral letter to ensure  free treatment.
The street children medical campaign took place this Ramadan in collaboration with Samusocial International Egypt, which is a French non-profit organization that raises the opportunities for having better life conditions for marginalized people and fighting the collective exclusion phenomenon especially for street children and youth since 2008.
**************************
About Lafarge Egypt
Lafarge Egypt, a member of LafargeHolcim, is a key player in the construction materials industry. With its plant located in Sokhna, the company provides products and solutions that are essential in creating the structures that shape our landscape today. Powered by more than 1,600 employees, and through its established business in cement, concrete and bags manufacturing, Lafarge Egypt is committed to providing sustainable building materials to meet the needs of its customers, whether it be individual home builders, large construction companies, architects or local artisans.