In Cooperation with Suez Governorate Lafarge Egypt launches an initiative to support the province against the Corona Virus
Cairo, March 2020 - In line with the measures and efforts taken by the state and its institutions to combat the spread of the emerging coronavirus (Covid 19), Lafarge Egypt, a subsidiary of Lafarge Holcim Foundation, announced the launch of its initiative in the Suez Governorate in cooperation with Gen. Abdel Meguid Saqr, Governor of Suez. The Initiative provides thousands of protective masks, sanitizers, and gloves to support the needs of the governorate.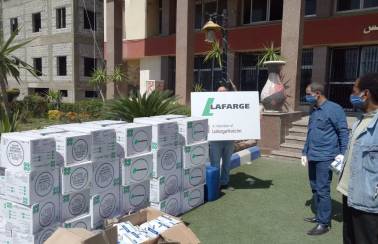 The motive behind the initiative is the belief that the private sector is a key partner in all aspects of development and that it must fulfill its corporate social responsibility towards its surrounding community. In fact, Lafarge Egypt's goal is the protection of the health and safety of Suez Governorate families and youth. During the initiative, Lafarge Egypt was successful in offering a gift of protective masks, hand gloves & sanitizer packages to the Suez Governorate.
Mr. Solomon Baumgartner Aviles the Chief Executive Officer of Lafarge Egypt, has stated the importance of the private sector's solidarity with the state in this unprecedented crisis. He thanked the Governor of the Suez for the tireless efforts to maintain the prevention of the spread of infection. He further explained that Lafarge Egypt is sparing no effort to be in full compliance with the instructions of the Egyptian Ministry of Health and has put measures in place in order to protect Lafarge Egypt's employees, contractors, customers, suppliers, and communities, as well as to continue the operations. He illustrated that the company has activated Business Resilience Teams (BRT) at country level in early January to ensure the readiness to respond to this challenge to maintain the safety of employees
From his part, Gen. Abdel Meguid Saqr, Governor of Suez, praised Lafarge Egypt support towards Suez Governorate, mentioning that this is the role that is expected from all institutions within the society. The Governor of Suez further requested from the citizens to abide by all decisions declared by the government, so that the afflicted agencies can carry out its role and reduce the spread of the virus, shedding light on the fact that Egypt was one of the countries that undertook strong proactive measures to prevent the spread of the epedemic.
It is worth noting that corporate social responsibility is an essential part of Lafarge's business strategy within the Egyptian market based on Lafarge's global leadership in this field. Among the most important projects carried out by the company is the Occupational Safety and Health Project that was launched back in 2016, and the launch of Geocycle, which works on waste management and recycling. In addition to vocational training and qualifying the youth of the Suez Governorate for the labor market, as well as the health care hub, through the periodic caravans that the company provides.
************************
LafargeHolcim is a pioneer of construction materials production which provides innovative solutions to serve builders and architects worldwide. The company produces cement and prefabricated concrete used in construction projects ranging from small houses to major technically and architecturally complex infrastructure projects. As urbanization increasingly affects our world, the company offers innovative products and construction solutions with a clear commitment to social and environmental sustainability. Through its global position, LafargeHolcim employs around 90,000 employees in more than 80 countries and has an equally balanced portfolio of developing and developed markets. More information is available at www.lafargeholcim.com